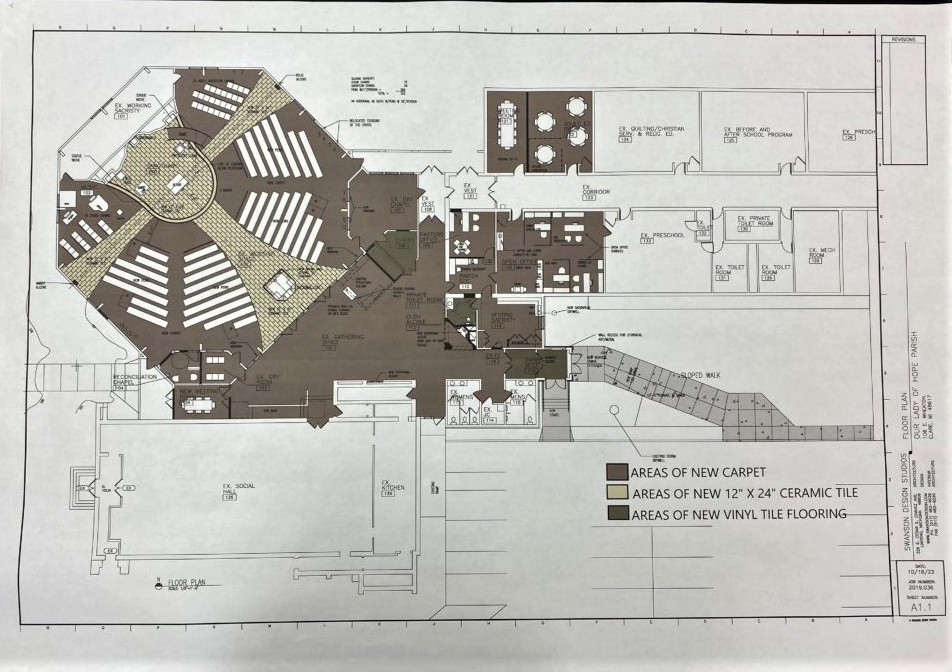 Preliminary Drawing of the Renovation Project
Additional information and drawings are available in the church gathering space.
Update on OLH Renovation Project
As God continues to accompany us on our journey of faith and to inspire us as we seek to renovate and beautify our parish worship space, gathering area, and parish offices . . .
On Tuesday, September 12, 2023, Monsignor Frank Koper, Pastor, Karla Swanson, Chair of the Renovation Committee, Mike Venglar, Business Manager, and Dave Swanson, Architect, met with the Diocesan Building Commission at the Center for Ministry in Saginaw. During this meeting, Dave Swanson reviewed with the Building Commission changes to our original architectural plans and our selection of a general contractor, and Mike Venglar shared with the Commission how the parish plans to finance this project. The Commission praised the design of our worship space and was amenable to our plan to finance the project.
A significant concern raised by the Commission was following diocesan policy in seeking at least three bids for the project. This issue also arose at a joint meeting of our Parish Pastoral Council and Finance Council prior to meeting with the Commission. Since there was a misunderstanding between representatives of the Commission and our Renovation Committee in this regard, the Commission suggested that the general contractor serve as a construction manager and seek additional bids where applicable. After being informed that several subcontractors decided not to bid because they had sufficient work, and in our area there is a limited number of skilled laborers, the Commission felt we should proceed ahead.
The Building Commission assured us that they will seek approval from the College of Consultors of the Diocese of Saginaw in order to proceed with the Renovation Project as soon as possible. Thank you for your patience, support, and prayers as we move forward with a long-anticipated project.
After meeting with the Commission, Dave Swanson contacted Harsh Construction, our general contractor, and expressed concerns raised at the Diocesan Building Commission regarding bids and obtaining Performance Labor and Material Bonds. Our general contractor, Harsh Construction, agreed to serve as a construction manager for the project and indicated a willingness to obtain additional subcontractor bids from trade subcontractors and a few additional bids in some of the trade categories. Harsh Construction would bond the entire project cost but could not guarantee that all subcontractors could provide a bond. This may lead to further discussion with the Diocesan Building Commission.
As always, should you have any questions about the project, please do not hesitate to ask any member of the OLH Renovation Committee, members of the Parish Pastoral Council and/or Finance Council, Parish Staff, or Pastor. Please continue to use the FAQ (Frequently Asked Questions) box located in the gathering area.
Also in the gathering area, you will find envelopes and a drop box for Capital Campaign Contributions. Please consider contributing to this important parish project, either financially or in prayer.